Cypress Semiconductor has announced its first integrated USB 3.0 controller, the EZ-USB FX3, based on a core built with ARM9 architecture.
The controller is ideal for video processing applications and imaging, scanners and printers, and for many other applications that require high bandwidth for data transfer; in other words, for all those applications which require a data rate that can not be achieved with USB 2.0. The EZ-USB FX3 is therefore particularly suitable for moving large amounts of data at extremely high speed; for example, it can play back high definition video without the need to make a video compression at the peripheral level.
The new device (Cypress code: CYUSB3014) is characterized by extreme flexibility, and is provided with a parallel configurable interface, the GPIF II (GPIF is the acronym of General Programmable Interface), able to provide a USB 3.0 data pipeline with speeds up to 5 Gbps and to connect to any type of processor, ASIC, imaging sensor, or FPGA. The GPIF II interface is basically an enhanced version of the previous version GPIF, available on the FX2LP series of controller for USB 2.0. GPIF II provides a simple and glueless interface for connection to industrial devices, such as synchronous Slave FIFO, asynchronous SRAM, Address Data Multiplexed interfaces (both synchronous and asynchronous), parallel ATA, and so on.
As already mentioned, the device is built around an ARM9 core fully configurable, and backwards compatible with USB 2.0. The architecture includes an internal bus designed to operate four times faster than the expected data rate for USB 3.0. The controller is avaialble in a 121-ball BGA package measuring 10 x 10 mm, with industrial temperature range. We also recall that Cypress Semiconductor is today the market leader in USB controllers, with over a billion devices manufactured since 1996.
Technical specifications
The main features of the controller, whose block diagram is shown in the picture below, are as follows: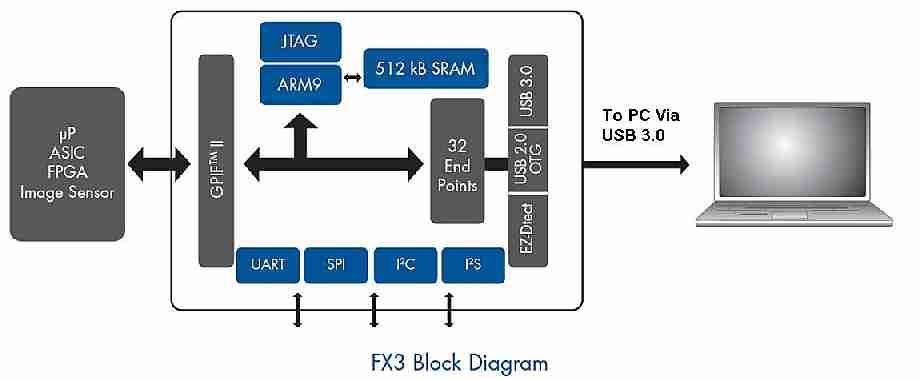 USB:

USB 3.0 Device
USB 2.0 OTG
32 physical Endpoints

GPIF II:

interface behavior programmed with a state machin>e
Master or Slave, Synchronous or Asynchronous
8/16/32 bit configuration, up to 100MHz

core, memory and programmability

ARM926EJS core running at 200 MHz
512KB of memory
critical USB APIs and implementation examples
program access via Cypress tools or standard ARM tools

low bandwidth peripherals and GPIOs

I2C (Boot EEPROM), SPI, UART, I2S
most unused I/Os can be configured as GPIOs

power supply, clocking and package

high voltage (3 to 6V VBUS or VBATT) supply
1.2V core. 1.8 - 3.6V I/Os
19.2MHz Crystal
121 Balls, 10 x 10mm, 0.8 mm pitch BGA package
USB 2.0 vs. USB 3.0
USB is the world's most popular standard for connectivity of peripherals, with billions of devices that use it for applications in consumer electronics, computer peripherals, and mobile devices. The EZ-USB FX3 CYUSB3014 is the natural evolution of its predecessor for USB 2.0, the Cypress FX2, offering, in addition to a data rate of 5 Gbps, a better power management and less time to recharge the batteries. It is estimated that only in 2010 were produced 4 billion devices with USB interface, and this number is expected to grow at a greater rate in the coming years. The USB 3.0 standard (also known simply as "SuperSpeed") is the latest evolution of the standard created by the USB consortium in 1996.
The following table compares the main features of the USB 3.0 standard and those of its predecessor, USB 2.0:
Attribute
USB 2.0
USB 3.0
Raw data rate

480 Mbits/s (Hi-Speed)
12 Mbits/s (Full-Speed)
1.5 Mbits/s (Low-Speed)

5 Gbits/s (SuperSpeed)
data interface

Half-duplex
Two-wire differential signaling

Dual-simplex
Four-wire differential signaling

signal count
four signals:

two for USB 2.0 data (D and D–)
two for VBUS and GND

eight signals:

four for SuperSpeed data (SSRX , SSRX, SSTX , SSTX–)
two for USB 2.0 dat (D and D–)
two for VBUS and GND

transaction protocol

host directed
polled traffic flow
packets broadcast to all downstream devices
no multiplexing of data streams

host directed
asynchronous notifications
packets routed only to target device
multiple data streams possible for bulk transfers

power modes

two modes:

active
suspend

four modes:

active (U0)
idle, fast (U1)
idle, slow (U2)
suspend, slow (U3)

current draw from VBUS

100 mA (max) for low-power and un-configured devices
500 mA (max) for high-power devices

150 mA (max) for low-power and un-configured devices
900 mA (max) for high-power devices
Application examples
Let's consider a first application example related to the video field. The USB 3.0 standard is capable of supporting high-definition video transfers at speeds up to 360 Mb/s and is therefore suitable for applications related to DSC, DVC, web cameras, security systems, image processing, biomedical systems.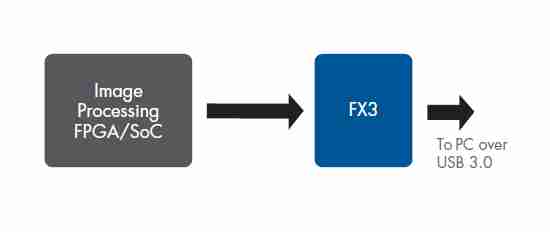 A second application example, shown in this image, is related to the controller use in PC peripherals (printers, scanners, multifunction devices).